…and there's a rumor that he rented this Lambo off Turo
The owner of a completely stock Lamborghini Gallardo registered to show at the Lift Kingz- Truck, Car & Bike show held earlier this weekend (Mar. 27,2021) at the Killeen Special Events Center apparently got so upset his exotic placed second that he destroyed the trophy at the awards ceremony, threw it at the organizer's feet and, after being escorted out, drove several miles to the car show organizer's business to commit vandalism.
Lift Kingz car show organizer Merv Hernandez hopped onto Facebook, sharing a photo of the Gallardo in question, putting out an APB of sorts to locate the owner. Many in the comments who were at the show witnessed this tantrum for themselves, corroborating the above story, and sharing evidence of this man child's path of destruction.
The Lift Kingz Truck, Car & Bike Show has been in the works for at least several months, the official Facebook event page going up earlier this year in January.
With over 50 individual categories competing, the main categories three places deep, judges had their work cut out for them. But, with cash prizes on the line and this being Texas and all, I guess some categories were taking it a bit more seriously than others.
According to Car show attendee Aubrey Gaines,
"My man got 2nd place for exotics. He got p****d and started yelling at his uncle. He tore the trophy in half and threw it at Merv Hernandez's feet. Merv told him to get the **** out. We escorted him out while he was cussing and yelling. He then went to Lift Kingz and did this."
Keep in mind Lift Kingz's business is a good five miles away from the Kileen Special Events Center ,so this Gallardo owner clearly had it out for the show's organizers. I'm guessing Lift Kingz has surveillance footage of the dirty deed.
Commenters Raidyn Zasquez and Richard Pickering provided photos of the Gallardo's rear, including the temporary tags, and a freeze frame off a video of the Gallardo owner in question.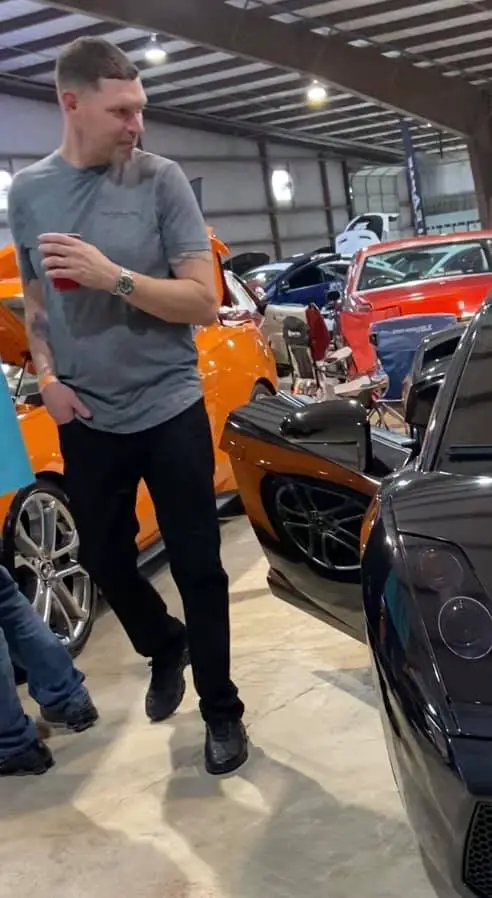 And, as mentioned, one rumor went so far to say the man above rented his Gallardo on Turo just for this event! I'm not sure I believe that one, but funny if true.
With so many trophies to dole out and this show being, not exactly a Pebble Beach Concours-level event (no offense) he probably assumed winning first would be a piece of cake.
As many have pointed out and hinted at in the title, this Gallardo was plain ol' stock. Typically, judges at these shows look for what sets your car apart from regular cars of the same make and model. That usually means they look for a level of modification as creative as the rules of the show dictate.
I mean, read the title of the show, "Go big or go home!"
If 100 percent originality and a clean car got first, car show attendees would just drive in with a new car off the lot and win, every time. I'm sure if this Gallardo owner even threw on the lightest of modifications like wheels, and some boutique aero, he would've easily snagged first. I'm surprised he even got second.
And it's a Gallardo. Don't get me wrong, most modern Lambos are special in their own right, but we're talking about a car already superseded by the much more modern Huracan. Cadillacs today come with more horsepower than a Gallardo.
Not to mention fully loaded F-150s cost just as much as used Gallardos these days.
While it's not against the law to break a trophy and throw it at the award presenter, vandalizing his business is one step over petty, it's now criminal.
Hopefully, Hernandez finds this Gallardo owner, squeezes an apology out of him and gets him to buy Lift Kingz a new glass door.
It's only fair.