You won't believe the amount of grass the bus took when it left.
While Hurricane Ida shut down many essential services, the New Jersey Transit buses courageously operated for as long as they could, often in not the most ideal conditions.
A New Jersey Transit bus driver, operating bus #7963, for whatever reason (probably related to the weather,) lost control of his bus and careened off the street, beaching itself on Twitter user @Ashsurowiec's front lawn presumably in the early hours of the morning.
Ash, waking up to a whole bus where a patch of grass normally would be, snapped a photo and shared it on Twitter where it went viral.
Here's her tweet below.
woke up to an NJ transit bus on my front yard 😌 my new whip pic.twitter.com/vn5HhFpk67

— ash (@ashsurowiec) September 2, 2021
As of this writing, Bus #7963's predicament has over 62,000 likes, 5,000 RTs and 160+ commenters leaving their two cents.
New Jersey Transit eventually caught wind of the photo and asked what her address was so they could send a tow truck out.
You'd think they'd have GPS tracking, but I guess it their unit wasn't communicating with HQ.
This, being Twitter, prompted this hilarious response. Finders keepers, right?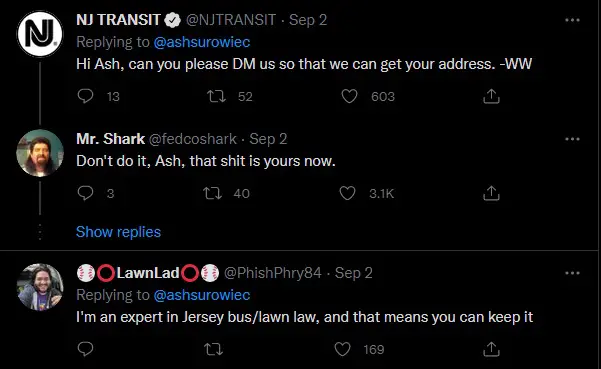 Ash provided us with an update hours later. As you can see, that bus's entire self was severely sunken into the ground.
update: they didn't let me keep the bus pic.twitter.com/KnYs9p6fFe

— ash (@ashsurowiec) September 2, 2021
In the background, you can see evidence of flood damage with what I assume are Ash's parents' cars airing out their interiors and several pieces of furniture doing the same.
While I couldn't find an official reason for this bus's early morning fate, here's what NJ Buses were dealing with within hours of Ash's tweet.
Words like "historic" and "biblical" were being thrown around to describe Hurricane Ida and, with that much water on the road, it looks like that bus's tires couldn't keep up.
Thankfully, it looks like only the bus and some grass were damaged. Reading the news, many New Jersey residents and their businesses fared far worse.