With a fresh smog, no leaks, and parked in pampered SoCal weather, this LS400 is hard to pass up.
Setting my Facebook marketplace to sunny So-Cal, I came across this absolutely solid looking 1991 Lexus LS400 in Burbank (home of Jay Leno's Garage btw) with under 200,000 miles for just $3,800.
With a clean title, fresh smog, registered recently, and allegedly no leaks, this Lexus LS400 looks factory fresh, ready to roll another 190,000 without breaking a sweat.
For the record, I'm well aware this LS400 is well past its break-in period.
Here's a screenshot of the Lexus ad and a gallery of photos.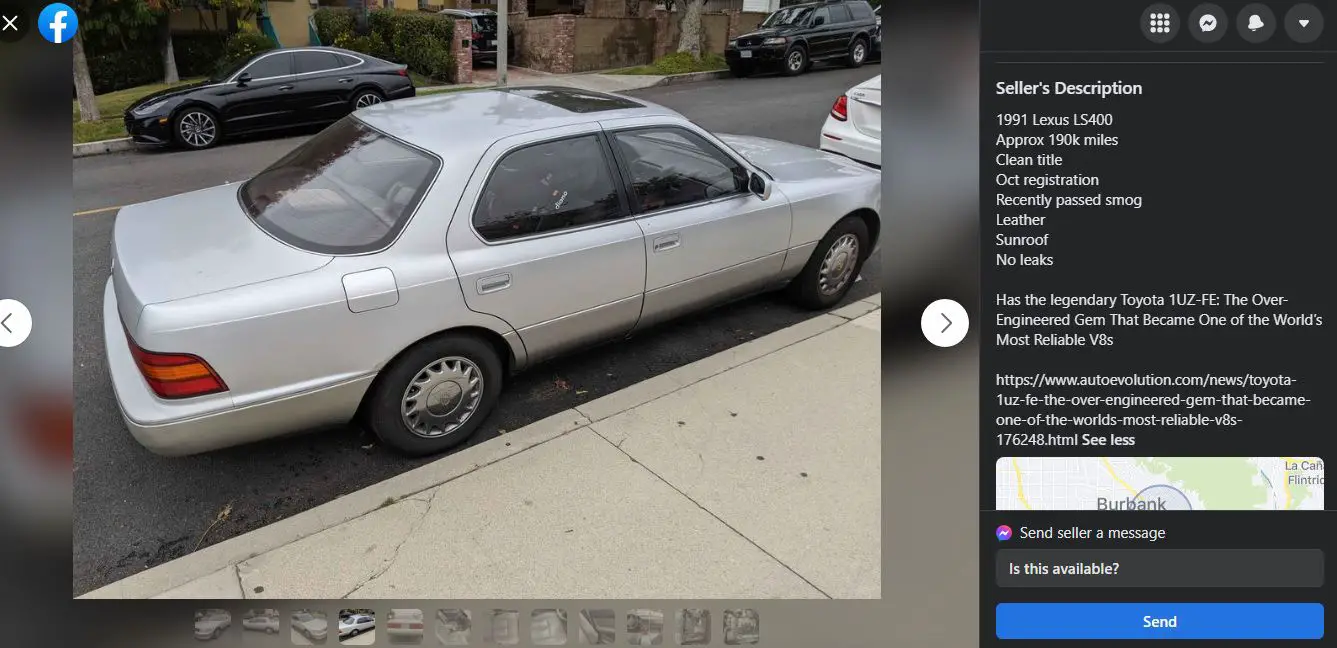 This LS400 is Super Silver Metallic, a lot like the one in Street Fighter 2's bonus game.
Looking at the photos, there are no dings, dents, or suspicious looking panel gaps, which, for a 30-year-old luxo barge, is high praise for those OG Lexus engineers.
True to the description, a top view of the engine reveals no oil or sludge. I'd be even more suspicious if the engine was given a fresh detail but, the look of this engine bay is consistent with someone who did maintenance only.
Of course, due diligence includes crawling underneath with your smartphone light and inspecting the undercarriage for traces of oil.
The owner even linked to an Auto Evolution article discussing how legendary the engine is so, he knows what this car's crown jewel is.
The interior looks 100 percent all there, with the typical driver's seat sporting split seams and a worn side bolster, two wear points easily repairable.
If I was in the market for one of these overengineered classics, I'd want to see if the owner changed the timing belt and water pump as scheduled. Typically, that's every 90,000-100,000 miles.
I'd also ask about a new ECU as these LS400 ones can supposedly develop leaky capacitors. When they leak, ruined capacitors can wreck your ECU without any notice, leaving you stranded
In addition, I'd look out for leaks around the power steering pump and its associated reservoir.
Finally, I'd wear clothes I'm willing to get dirty and bring a high-powered flashlight so I can inspect suspension bushings and ball joints to see if they're worn out.
Coming across this Lexus LS400, I found another in black that's $300 cheaper, but the description is lacking and there's about 20,000 miles more on the odo (as if that matters for this bulletproof tank.)
Keep in mind, the original MSRP for these cars was around $55,000. When you adjust for inflation, it's like buying a $104,000 car today!
If either of these LS400s show maintenance records that are good enough, these cars are absolute steals.
Have you bought one of these LS400s or have some thoughts about buying a used one? Let me know your .02 in the comments below.