A Turbo Fire V8 and room for the whole family, this was thee family hauler.
Welcome to Neighborhood Spots, where I blog about cars in and around where I live.
The bonuses of taking your Sunday drive around town in a rural city with farmland in the outskirts means that your chances of running into an old, but gold piece of Detroit Iron are higher than in one of the bigger cities. Merced has seen its influx of employment from a new university built but is still farm town, USA as far as someone hopping off the highway is concerned.
While I was putting around at residential speed limits, I ran across all sorts of American land yachts, including a Ford Gran Torino Squire and a Chevrolet Nova, interestingly both in primer black. But when I drove by this Chevrolet Impala Wagon, the shade of black glinted in the afternoon sun. Finally, a muscle car with a bit of clear coat. Actually, fresh clear coat as this family hauler had been freshly repainted.
Like a lot of residents will do with a shady porch and a yappy dog running around, a bit of sitting is in order for a lazy Sunday and this Impala wagon owner was doing just that when I approached to snap a couple of photos.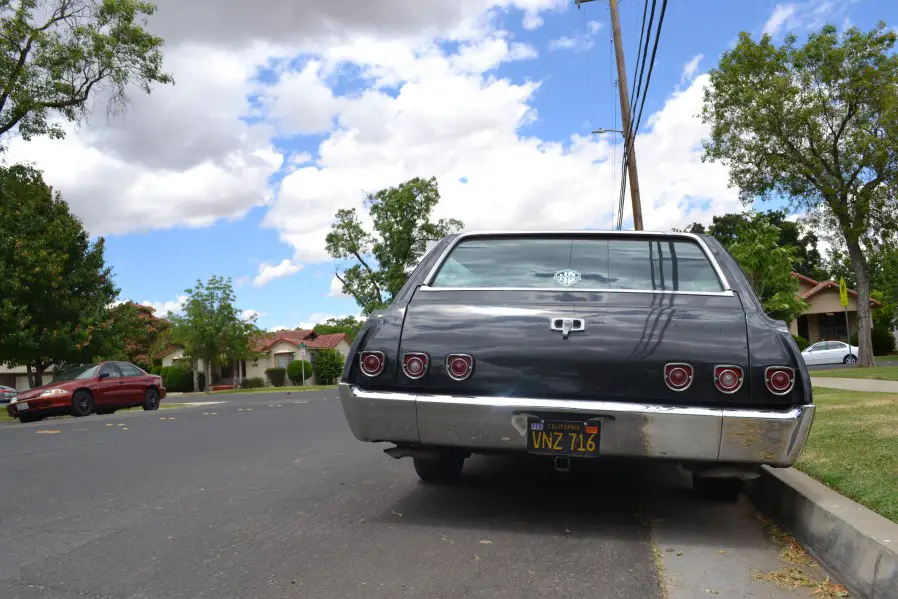 Although this wagon is on its third owner, he insists that this will be its last. Initially bought to lightly restore and then flip for profit at a local swap meet, it was the Impala's luxurious boulevard ride and all the people who approached him with stories of their childhood connected with this model that made him keep it for good.
Outside you can point out the classic coke bottle styling when viewed from the side with all the iconic markings that made the Impala popular. Yes, that means those triple round taillights outback. With the sun hitting the paint just right, you'll catch a bit of sparkle thanks to the Harley-Davidson Black Pearl specifically chosen for how well it looks at all times of the day. A set of 15 inch centerlines on 215 wide tires all around make sure that the V8 underneath the hood can get all its power down. 
The interior leaves much to be desired, with most of the tan bench seating and carpeting yet to be restored, but that's definitely on the restoration list for this owner. Like most B-Body cars of this generation, seating for six was no problem thanks to three-wide seating up front. Interestingly enough, one of the last cars to offer bench seats was the ninth generation Impala as late as 2012.
Underneath the hood is a 327 cubic inch Turbo Fire V8 that's been lightly modified with a bigger cam, a reworked head, and a better flowing carb. The owner reckons this one is good enough for 425 HP, although it hasn't officially hit the dyno.
Most of the Impalas I run into are either all-original or slammed to the ground with a $15,000 paint job. This '68 looks like it could hold its own at a local car show with a different set of wheels and a fresh interior but could easily blast across the country on a whim no problem.