It's not the GMC Hummer EV nor the new Chevrolet Silverado EV, it's much, much older.
With a slew of electric vehicles from General Motors making their official debuts including the new GMC Hummer EV, Chevrolet Silverado EV, and Chevrolet Blazer EV, I wondered, what was the first electric pickup built by General Motors?
I was surprised to learn that the answer is a vehicle built by GMC that, if around today, would be 110 years old.
The first electric pickup from General Motors was the 1912 GMC Electric Work Truck, one of the first work trucks built by GMC that was powered solely by a battery pack of Lead Acid and Nickel-Iron batteries.
Check out a photo of this now over a century old rolling piece of technology below.
Well… close pic.twitter.com/nyH5i8gJp2

— Nick Thomas 🇺🇦🎗️ (@One_Nick_Thomas) May 17, 2022
Before they were called GMC, GMC was two separate truck companies, Rapid Motor Vehicle Company and the Reliance Motor Truck Company.
GMC's first electric trucks were first designed and built under their Rapid lineup of heavy-duty trucks before the GMC company was formally re-organized and named the "General Motors Truck Company" (aka GMTC or GMC) in 1911.
"Eight models of electric trucks were added to the Rapid line, ranging from 1/2 ton to 6-tons capacity," says an article titled "The First Century of GMC Truck History."
"173 of them were built in Rapid before they were changed to the GMC brand in 1912. Their electric trucks were designed by John M. Landsen, who had left his Landsen Electric Vehicle Co. in New Work NJ to manage GMTC electric truck production. The Edison alkaline batteries were mounted under and behind the seat in a large wooden enclosure."
Here's a screenshot of all the model names of the first GMC electric trucks.
Those prices adjusted for inflation would be between $35,000 and $73,000.
Here's one of their electric trucks used by a furniture moving company.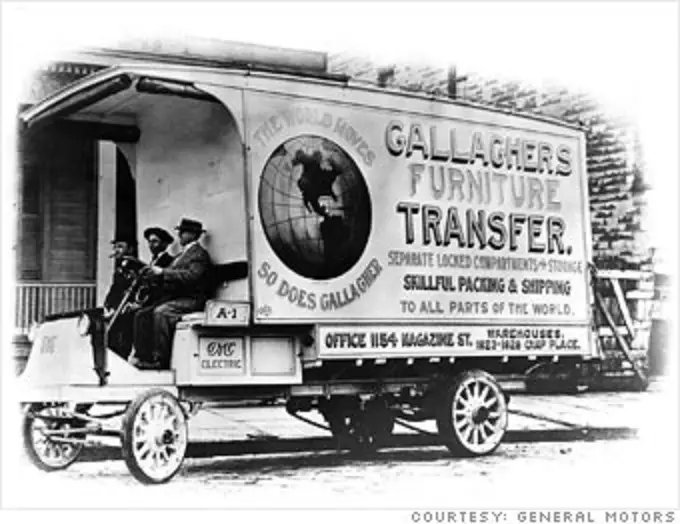 To give you an idea of the performance these early electric trucks offered, this for sale listing for a similar electric truck from 1912 is worth a read.
These turn of the century electric pick-up trucks had top speeds (geared out) of around 12 MPH and had a 50-mile range (unladen.)
What about the 1997-1998 Chevy S-10 EV?
While the GMTC Electric work truck was literally the first electric pickup from General Motors, I consider the often forgotten 1997-1998 Chevrolet S-10 EV to be the first modern electric pickup built by GM.
Engineered under GM's Advanced Technology Vehicles Division, with a powertrain from their futuristic-looking EV-1 electric two-seater, this electric pickup was only ever leased as a fleet vehicle.
GM only sold 492 of these S10 EVs.
"The S10 EV was essentially a base Chevy S10 short-bed compact pickup powered by a "detuned" EV1 electric drive system (114 horsepower, or 85 kilowatts) to help extend its range."
"That made the S10 EV front-wheel drive and very heavy at 4,199 pounds, yet it preserved a 951-pound payload under the 5,150-pound gross vehicle weight rating. Of that, 1,400 pounds was the 16.2-kWh lead-acid battery pack tucked between the frame rails under the bed."
First offered with a 16.2 kWh lead acid battery pack, the S-10 EV had a range of about 45 miles with governed top speed of 70 MPH.
With the optional 29 kWh Nickel-metal hydride battery pack in 1998, range increased to about 95 miles.
Acceleration was punchy off the line but, speeds quickly tapered off.
0-50 MPH took about 13.5 seconds
Thankfully, a handful of videos of these progenitors to the Chevrolet Silverado EV, like this one on Youtube, still exist.