He took a gamble selling his a 2023 Acura Integra so early and it didn't pay off. Here's why.
Less than two weeks after new 2023 Acura Integras started showing up on Acura dealership lots, not only did one owner in Illinois take delivery, he immediately listed it for resale on the Cars and Bids car auction site.
Now live on Cars & Bids: 2023 Acura Integra A-Spec! https://t.co/GhfLXY1eiI

— Cars & Bids (@carsandbids) June 10, 2022
Of course the reseller, anonymously identified as NTBS, had his (legitimate) reasons for reselling.
"Since I put the reservation down lot of things have changed," NTBS commented. "Since reservation, I have acquired 2 other cars…I couldn't back out of the commitment. Thought I would see if anyone would be interested in getting it without wait or crazy mark-ups."
But to most window shoppers, potential bidders, and self-proclaimed car auction experts, this entire auction read like a classic case of flipping a new car for a quick profit.
"People like him prey on scarce markets and disrupt prices in the car world, "TheKingJimmy commented. "C&B (imo) has been a place to buy vetted enthusiast cars at realistic prices. Dude's listing goes against that spirit."
It's not uncommon for someone with enough disposable income (keyword disposable) to buy something to resell it as soon as possible.
You see it play out in real time all the time with less expensive items like shoes, street wear, or anything where there's a limited supply.
Soon after an item drops and those lucky buyers get their items, you see listings pop up on eBay, and people actually buy these items at inflated prices.
It's been several days since this 2023 Acura Integra auction ended and, according to the final bid of $38,250, it failed to meet reserve.
A new Integra A-Spec Tech in a color that's not metallic silver (Metallic silver is the only paint color that's free, all the rest are $500 extra) has a $37,395 MSRP.
In the video NTBS provided, his (presumed) son confirms he financed $41,000.
The auction did not go the sellers way and was a failure.
But, why?
The resellers comments read like he wasn't in touch with the new Acura Integra market that was unfolding as the auction played out.
This was one of NTBS's more controversial replies responding to a now deleted comment which was, I assume, not so nice.
"As far as I know this is the only chance for someone who hasn't put down deposit months ago, sight unseen, without details available, without any reviews to buy this car and not pay what dealers feel like charging. It's an auction, you can bid what you would pay for it. Else, get in line and wait months. Meanwhile, go back to your video games."
Go back to your video games? A bit touchy, yikes.
Sure, Acura dealerships are adding markup, a good percentage of them advertising MSRP but adding on a mandatory prep package that includes between $1,000-3,000 worth of dealer options like tint, edge guards, ceramic coating and etc.
But, there are several cases of new Integra owners who got their Integras for MSRP or for a negligible (after it's amortized over so many months) amount of ADM (around $500,) no hassle.
I didn't even have to search hard to find an example.
"I picked up my car at Mungenast yesterday for MSRP." says Integra Talk Forum member JohnV on June 5. "They are over-priced on their accessories, but I was able to negotiate them down somewhat. I was 38,854 out the door.
Mind you, I'm getting this Acura Integra new car market vibe check reading comments from the "2023+ Acura Integra Owners and Enthusiasts" Facebook group and the unofficial dealership markup thread on Integra Talk.
It seems to me that, while there is an elevated demand for these new Integras, there is plenty of supply to meet demand.
In other words, if you want an Integra right now, not only can you find one, you can finance one without much added dealer markup, if any.
That's why NTBS's Integra auction failed, there are other options from actual dealerships where you don't have to go through the rigmarole of a Cars and Bids auction.
Mullers Woodfield Acura, the closest Acura dealership to Lake in the Hills, IL (a half hour drive) has seven Integras (as of this writing) for sale. Shortage? What shortage?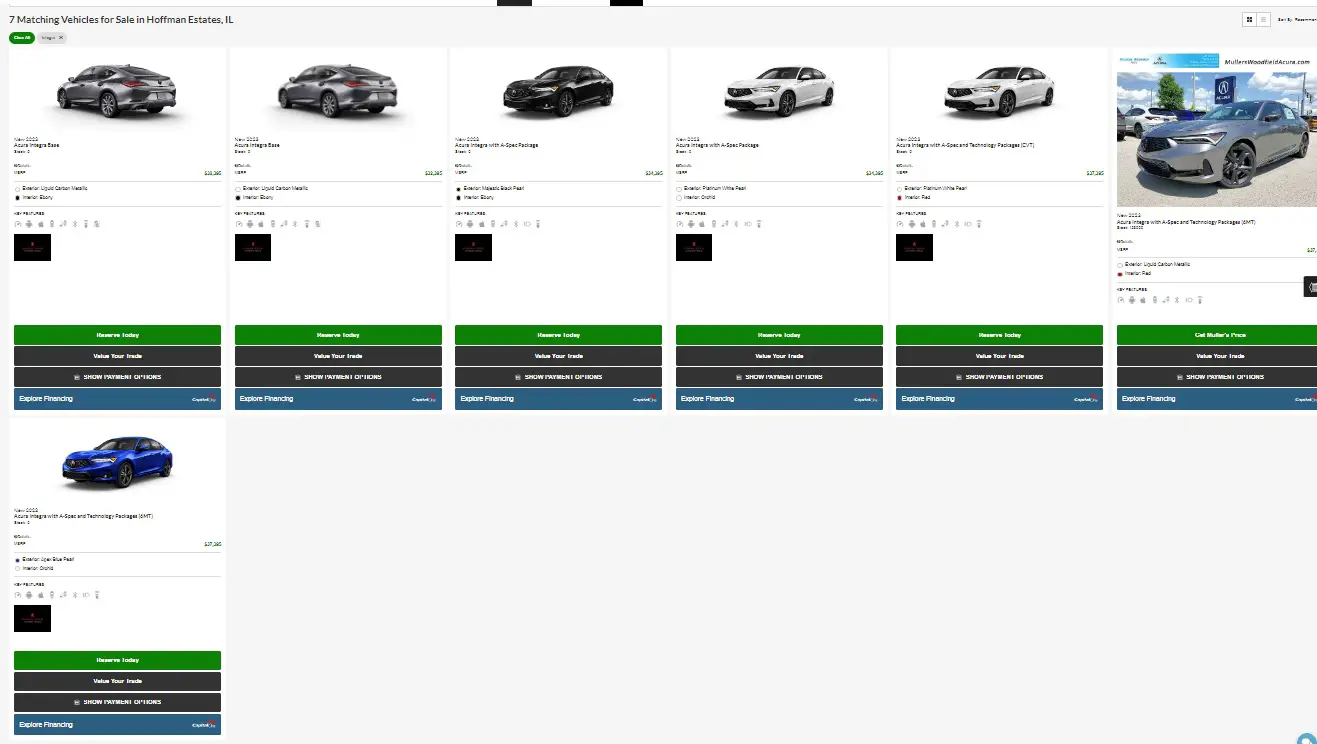 So, new Integra owners who took delivery of their Integras seeking to make a quick buck, you won't.
And potential Integra shoppers, take note, if you want one for around MSRP, you can find one.