If you're looking for an affordable all-season or UHP for your car, truck, or SUV, Leao tires might be for you.
Websites: www.leaotires.ca & www.linglongtire.com

Shopping around for an affordable all-season or ultra-high performance tire in an uncommon size for your larger aftermarket wheels at your local tire shop or online and you may come across Leao tires (blue lion logo, actually called Leao Tire.)
Here's everything you need to know about Leao Tire, who makes, them and if they're worth your hard earned money.
About Leao tires
Leao Tires has a presence in Canada, as I was able to find a North American website for Leao Tires with a .ca domain, and, although, at first search, it seems like they don't have any presence in the United States, such is not the case.
A quick google around reveals that, on the used market at least, Leao Tires are still being bought and sold in the lower 48.
According to their trademark information, Leao Tires was first used in commerce in the United States in 2005.
With that out of the way, who, exactly, is Leao Tire?
According to their Canadian site's About Us, Leao Tire is a subsidiary of LingLong tires, an Asian tire maker (as the name hints at) based in China.
LingLong tires has been making tires for over 40 years with an extensive catalog of tires for passenger cars, trucks, buses, off-road vehicles, and heavy duty machinery used for construction.
I blogged about LingLong tires last year.
A bit of insider baseball reveals LingLong and Leao are so closely related, some of their tires are copies of each other.
Here's a side by side of LingLong's Crosswind UHP (left) and Leao's Lion Sport UHP (right,) their tread patterns, and presumably its rubber tire composition, are probably exactly the same.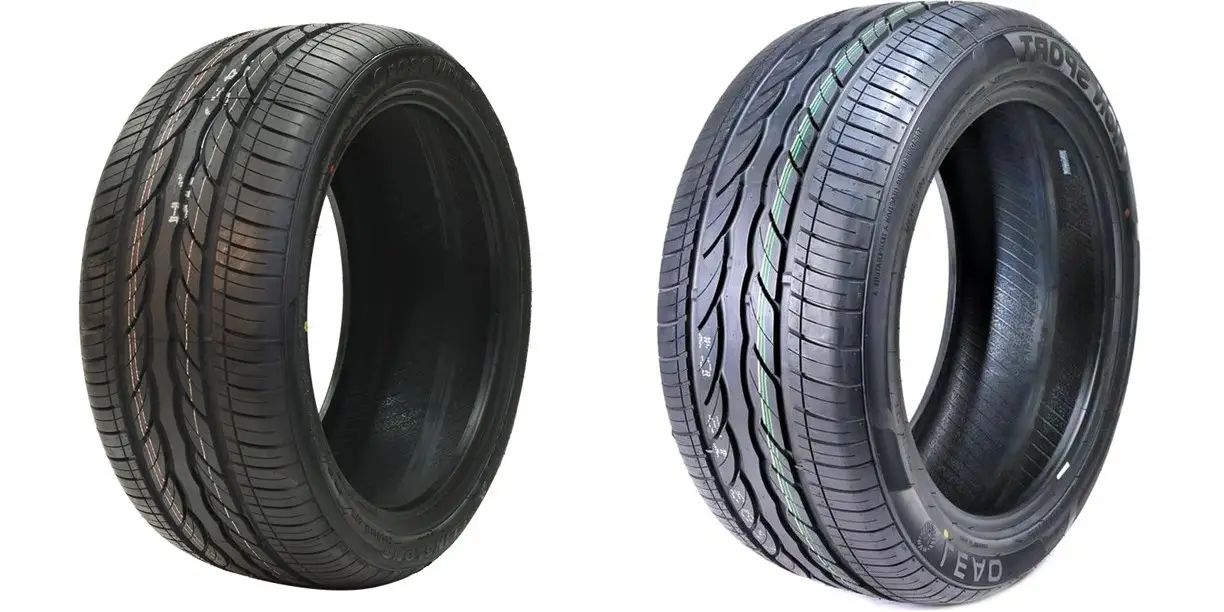 Although LingLong's HQ and several of its factories are based in China, they have an R&D center in the United States and other manufacturing facilities in Thailand and Serbia.
Leao Tires are made in Thailand.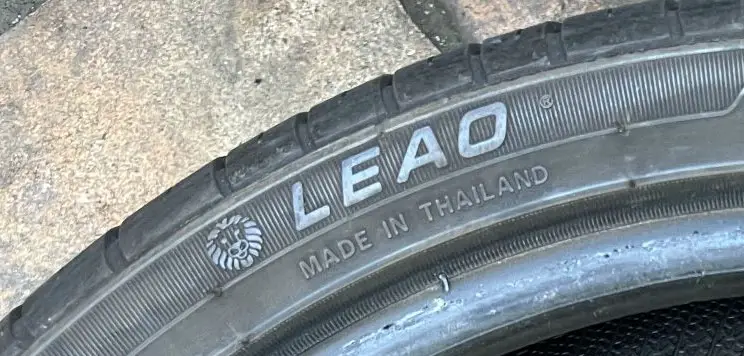 Pros (price, performance, and warranty)
Price
If you're all about that luxury car and SUV life and you came up on a deal, a lot of the times your new Acura, BMW, or Lexus's tires are shot, you spent all your money on buying the darn thing, not to mention smogging, registering, and paying any back fees, and you need new tires yesterday.
This is where Leao tires shine, they aren't Continentals but they sure are better than bald, worn, or just plain shredded rubber at all four corners.
Take, for example a Leao Lion Sport in 265/45/R20, on WalMart this UHP costs just $108 each or $432 for a set.
On TireRack, the cheapest options in that size are ONLY Continentals, coming in at $248 each or $992. Tack on the mounting and balance and new tires probably cost a third of what you paid for the whole car!
Performance
So, we know Leao are affordable, but, affordable is no good if they don't deliver on performance.
The best selling Leaos in the United States seem to be the Leao Lion Sport UHP (a cheap UHP) and Lion Sport 4X4 HP ( a high-performance all-season tire built for SUVs, CUVs, and light trucks.)
I'm going to base my general opinion on Leao Tires based on those two models.
So, what are customers saying about the Lion Sport UHP and 4×4 HP?
From the dozens of reviews I've read, they're mostly satisfied with the immense value they get from their Leaos.
Amatuer and Pro-Am drifters are some of the most discerning and savvy tire shoppers around as they have find the sweet spot of finding wide, low prolife tires that grip without breaking the bank.
Leao Lion Sport UHPs, from what I've seen on Drift Tire Reviews on Facebook, are a godsend for amateur drifting, providing what drifters need at affordable prices.
Check out this screen shot of a review to see what I mean.
OK, so 99 percent of Leao tire buyers aren't drifters. But, the reviews on sites like Simple Tire reflect what those drifters are saying.
"Great tire for the price," says Nick's review of Leao's Sport UHP. "Used on both my Acura's and a Ford Escape… smooth ride."
"Surprised how good these tires are," Says Glenn, also on his review of Leao's Sport UHPs. "I put them on my Mercedes ML250 and they have performed well. A tad spongy handling in high speed maneuvers, but to be expected. Would buy again."
OK, how about those 4×4 HPs?
"These are the only tires I use!," Says Margaret McLellalan on her review of Leao's 4×4 HPs. "They have my truck riding smoothly and they look good! They last me a couple of years as well!"
"I bought these for my 2013 Sportage," says Geoffrey on his review of Leao 4×4 UHPs on PepBoys. "The tires look good and have an aggressive tread pattern. But along with that, you do get some road noise at highway speeds (50+ mph). If you're looking for a decent on road/off-road tire, I recommend it. If you're looking for a quiet touring tire, look elsewhere." (comment linked here.)
Warranty
Before buying Leao tires, it would behoove you to familiarize yourself with its warranty.
Warranty information for Leao Tire is linked here.
According to Leao Tires,"
"The warranty period is limited to a maximum of 5 years (60 months) from the date of manufacture and/or shall terminate once the tread is worn to TWI (Tread Wear Indicator), whichever occurs first"
Leao Tire warranties any new and unmounted tire for any workmanship or appearance defect as applicable during the warranty period.
In addition, Leao Tire offers a Limited Prorated Mileage Warranty, how many miles covered listed below.
Although Leao Tire has an office in the United States via LingLong Tire and they offer a warranty, I recommend clarifying with wherever or whoever you bought Leao Tires from what, exactly, is their Leao Tire Warranty, if they'll warranty a legitimate warranty claim, and what do they expect, from you, before you make a claim.
As mentioned in their warranty information, Leao Tire purchasers should keep proof of purchase and a record of rotation and alignment according to recommendations.
Cons
The only con I can honestly write about Leaos is, you can't expect Tier 1 and Tier 2 levels of performance at a value tire price point.
Leao tires are not quite, "you get what you pay for" but, at the same time, you kind of do if you know what I mean.
Sure, you'll probably be sliding all over the place after one hot lap on a set of Leao Tires at a run what you bring day at Auto Club, but that's not the "lane" Leao Tire buyers are in.
With Leaos, don't be surprised if they sound a tad louder than your old, OEM setup.
If you were able to drive through a football field long puddle without losing grip in your old Pirellis, with these Leaos, you might have to take puddles at the speed limit.
Relevant videos
Where to read reviews about Leao tires
Navigate to any website listed below, find a Leao Tire model you're interested, and there are usually reviews from previous purchasers.
Conclusion
If most of your driving consists of commuting, driving around town, going to church, and the occasional long trip, I have no reservations recommending Leao Tires to you.
That being said, as mentioned in the cons section, don't be surprised if Leao Tires aren't as quiet, comfortable, or provide the exact level of performance of your more expensive, OEM tire setup.
If you're starting out drifting, look for Leao tires.
And, if you're into aftermarket wheels, know you shot yourself in the foot by buying oversized wheels that need tires in a size that'll drain your bank account when you need to buy a full set, Leao Tires are definitely for you.