A quality, all-season tire backed by a nationwide chain of stores whose main service is tires.
Website: www.DiscountTire.com
Shopping for replacement tires at Discount Tire Co. or America's Tire and their employees may steer you towards Arizonian All-Seasons.
Here's everything you need to know about Arizonian tires, if they're any good, and if you should spend your hard earned money on this tire with Arizona in its name.
Arizonian Tire history
According to Arizonian Tires' trademark information they're owned by the Discount Tire Co., Inc.
Depending on where you live, Discount Tire also goes by America's Tire.
Discount Tire opened its first store in 1960 and started using Arizonian Tires in commerce twenty years later in 1980 so, they've been selling Arizonians a lot longer than I expected.
Every other article says Arizonian tires are a private label brand made by Cooper Tires, an American-based tire company with tire factories in the United States, Mexico, England, Serbia, Vietnam (joint venture,) and, China.
A close-up of a used Arizonian tire from Offer Up shows that Arizonian Tires are Made in China.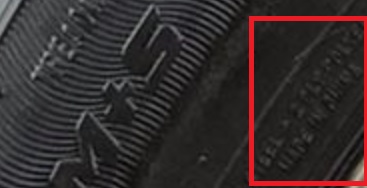 Arizonian Tires, as of this writing, technically only has one model, Silver Edition All-Seasons.
Silver Editions IIIs are also listed and you may find them for sale as used tires elsewhere, but they're discontinued.
The major difference between the two is the Silver Edition All-Seasons are silica-based and last slightly longer whereas the Silver Edition IIIs are just an enriched rubber compound.
Pros
Large support network
Thanks to the internet and big box stores, finding affordable tires is no problem. Where choosing affordable tires can bite you in the wallet is when they don't last as they're advertised and/or you damage one or several, often no fault of your own.
Those who bought their tires online or from a tire brand without a warranty are often left high and dry.
Thankfully, Arizonian tires are a private label brand of Discount Tire, an independent chain of tire stores with over 1,000+ locations in 36 states.
If you live near one and buy Arizonian tires from them, rest assured, if you have any issues with your Arizonians, say, before a big trip, I can honestly blog that you'll have some peace of mind they'll not only honor your warranty (if applicable,) they'll have the same make, model, and size tire if you need a replacement.
That's hard to say for someone like a Walmart where their tire inventory is only so large or for a much smaller, independent tire shop who doesn't have the resources or experience dealing with so called "value brand" tire warranties.
Free air checks, flat tire repair, and tire rotation*
If you buy a full set of Arizonian tires, or presumably any other tires from America's Tire online for the full purchase price, (that includes installation, disposal fee & environmental fee,) you'll qualify for free air checks, flat tire repair, and tire rotation.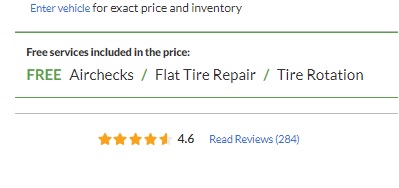 The first two, air checks and tire repair aren't deal makers in my opinion but, that last one, free tire rotations, is a lot of potential value.
And, according to their community questions section, depending on where you live, they may throw in free balancing, too!
"Our tire installation comes with lifetime balancing and rotation services for the tires. We recommend rotation and balance every 6-8,000 miles to maximize performance and wear," says a community moderator for Discount Tire
Decent warranty
Their only tire, the Arizonian Silver Edition All Season, is backed by a relatively long 60,000 mile warranty which, for the average American, is several years-worth of driving.
For around $20 per tire, or an extra $80 for all four, you can also buy what Discount Tire calls a "Certificate for repair, refund, or replacement."
According to their FAQ,
"If a tire covered by the Certificate for Repair, Refund or Replacement fails due to a non repairable road hazard, has more than 3/32" of tread depth remaining across the tire, and it has been less than 3 years from date of purchase, America's Tire will give a refund of the full purchase price, together with the applicable sales tax and give you the option to purchase a replacement tire at the refund price, with the payment of any applicable sales tax."
Arizonian tire purchasers seem to be mostly satisfied with them.
If you're going to do more research beyond this blog post on Arizonian Tires, there's really only one place to find their reviews and that's their website (linked here.)
From the dozens of short reviews I've read, Arizonian tire purchasers are more or less satisfied with what they bought, rating their purchase above average for tread life, wet traction, cornering, steering, ride noise, ride comfort, and dry traction.
"For the most part I haven't had any problems and the work great when conditions change," says Regina B, a 2016 Kia Soul owner who left a 4.7/5 rating for the Silver Edition All-Seasons.
"Great tire for any weather," commented Edward R, a 2011 Toyota Corolla owner who also left a 4.7/5 rating on the same tires. "Just a bit loud however I am confident when driving in adverse weather. Just lost a tire I hit a long nail went through the tread and out the side wall. Not the manufacturer fault."
"Sidewall is on the stiff side which I normally enjoy and the car, a Mazda CX-5, is already sporty, says Andrew A, a 2014 Mazda CX-5 owner also commenting on the same tires. "This makes a four season tire here in Texas, it's a good balance(d tire.)"
Cons
Not cheap but not expensive
For a so-called no name brand of tire that should, in my opinion, undercut premium tires by a lot, Arizonian tires aren't exactly "affordable" nor are they all that expensive, they're smack dab in the middle price-wise.
Take, for example, a set of Silver Edition All-Seasons in 225/65/17. At $140 each, that's about as much as you'll pay for the equivalent Goodyear, Cooper, Laufenn, or Cooper tire from Tire Rack.
Head on over to Walmart and you'll find the same size tire for $40 cheaper.
If you're absolutely on a budget where choosing between a set of tires for the same size can save you an extra $160, Arizonians from Discount Tire/America's Tire might not be for you.
Relevant videos
Recommendation
If you live near a Discount Tire, can take advantage of their free tire balances and tire rotations, and can spare an extra $100 (give or take) on installation plus all the extra smaller fees, I have no reservations recommending Arizonian tires to you.
As mentioned in the pros list above, that extra money you spend towards Arizonians goes towards a tire that performs between a tier 2 and tier 3 tire and, if you mount and balance your Arizonians in-store (because you technically can buy just the tires) you benefit from those free air checks, tire repairs, and tire balances (presumably, for the life of the tires.)
But, if money is super tight this month and you're honestly scraping by, there are more affordable options from Walmart, Costco, and smaller independent tire shops.
Overall, Arizonians are a go!