Why Drift, track, and, car enthusiasts are singing the praises of the Kenda KR20A.
website: www.automotive.kendatire.com
Blogging about value tier tires and there's a tire model that comes up time and time again as the go-to tire for drifters, track enthusiasts and just plain ol' gear geads looking for an affordable UHP Summer tire, it's Kenda KR20s or, their updated form, Kenda KR20As.
Kenda KR20As are praised for the insane amounts of grip and longevity on and off the track.
Here's why, if you're in the market for a Ultra High Performance Summer tire and don't want to spend a lot of money, it would behoove you to order yourself some KR20As ASAP.
About Kenda Tires
Kenda Tires is based out of Taiwan, in the tire business since 1962 with a diverse portfolio from automotive, bicycle, trailer, powersports, and even wheelchair tires.
As this tire side profile shows, Kenda KR20As are made in Taiwan.
About Kenda KR20As and key technologies.
As the sales sheet says below, KR20As are an ultra-high performance summer tire that comes in Max Performance with a UTQG rating of 200 AA A, and an Ultra High-Performance version with longer treadlife with a UTQG rating of 300 A A.
Kenda classifies the KR20A as a semi-slick tire which means you can technically drive with these mounted to the track, turn a couple of laps, and drive back home on them (assuming you have useable tread life.)
According to Kenda,
"It (KR20As) features a symmetrical, directional tread pattern with excellent drainage. The racing construction offers precise control and guaranteed grip on the road. New casing and profile designs lift dry performance."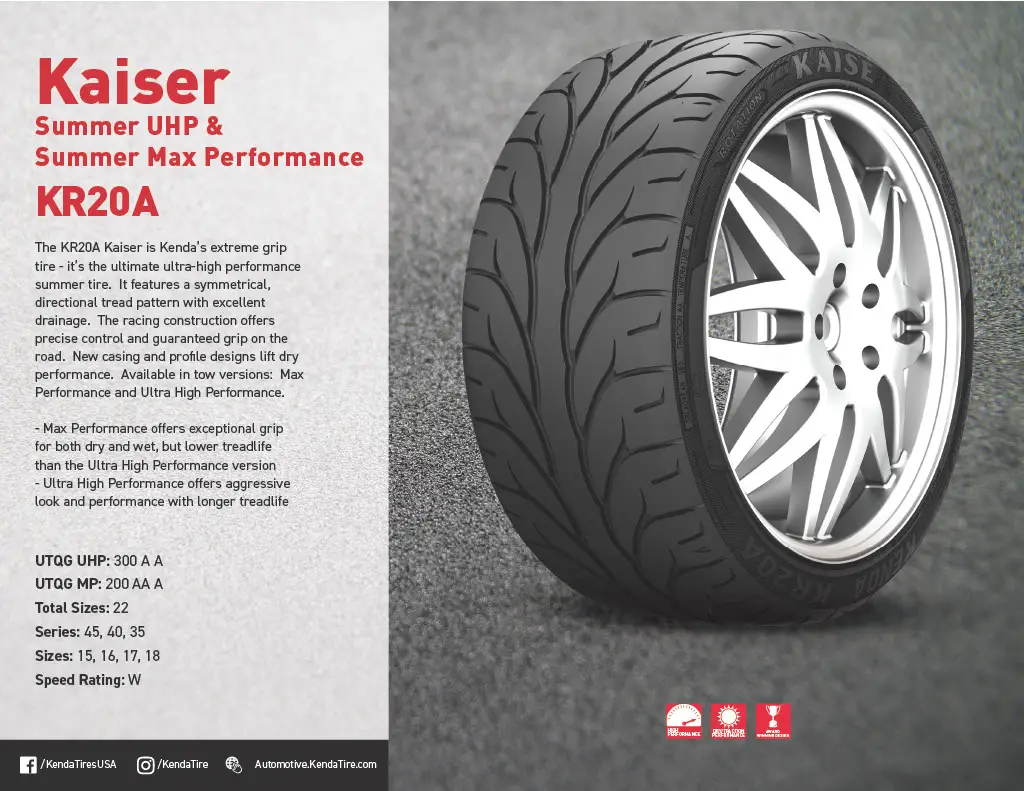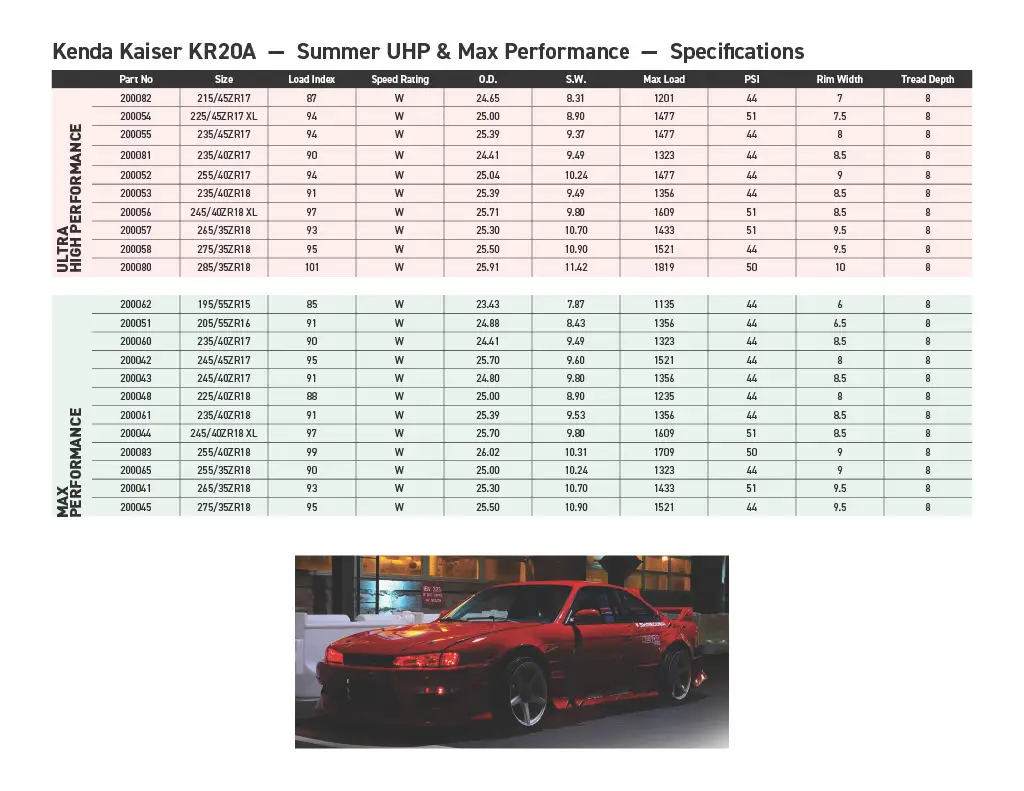 How affordable are Kenda KR20As?
You can do this with any of Kenda's KR20A sizes but we'll go through two examples.
Kenda KR20As in 215 45 R17 on SimpleTire.com cost $118.99 per tire or $475.96 for a set.
Compare that to those most affordable and comparable semi-slick in the same size on Tire Rack, Falken Azenis RT615K+, priced at $150 per tire or $600 for a whole set.
The Kenda KR20As are a whole $31 cheaper per tire, that's an insane amount of savings for that comparable, if not better, level of grip.
Let's kick it up a tire size and look at KR20As in 265 35 R18.
SimpleTire.com has them for $148.99 per tire or $596.96 for a set.
Compare that to the affordable UHP from Kumho, the Ecsta V730 in the same size, on Tire Rack they're $213.52 per or $854.08 for a set.
KR20As are a whole $65 cheaper…per tire.
If you're on a limited budget and need grip now, you can see why these 300TW and 200TW UHPs are so popular.
How do they perform?
If you're getting into drifting you'll soon find out KR20As are the default tire of choice, and for good reason, they offer a lot of grip, give off a lot of tire smoke, and most importantly, last a long time.
When heat cycled and treated properly, drifters mention these KR20As suffer from little delamination, if any.
I came across KR20s and KR20As on Drift Tire Reviews on Facebook so, definitely head over there if you have more questions from drifters who tried and reviewed KR20As for themselves. (group linked here.)
Here are a handful of choice quotes from that group worth ctrl+c, ctrl+v-ing.
"KR20A, the best tire I've ever run," says group member Steve Stark who owns a 190 WHP Subaru BRZ. "I had no issues staying on the doors of the guys with 600-700hp too. I was really hoping to hit 50+ laps like the others with similar hp, but 30 laps seems about right." (review linked here)
"My favorite drift tire," says George Krapivko who owns a 340 WHP BMW E46 "Even with my low power I was able to chase some cars down that had 100+ hp on me. But that grip made me stay on my toes, more clutch work was needed. A ton of tire smoke, full chemtrails, didn't know my car is able to make that much smoke in second gear. This tire is great for friendly comp, considering your suspension is dialed." (review linked here)
So, we've established they're excellent drift tires, but what about your grip driving?
For insight into that, I suggest reading the reviews on Simple Tire (linked here) or Kenda's site (linked here.)
Here are quotes from reviews worth mentioning.
"I push the absolute ham out of these tires," says Zac, owner of a 2006 Mazdaspeed 6, "It's crazy how much lateral grip they have, even compared to tires costing twice as much! They're quiet throughout their entire lifespan and even pretty good in the rain, which really surprised me. I'll take these over R888 any day!"
That's a bold statement considering Toyo R888s, a Japanese made Tier 1 tire, are an R-compound tire with a 100 TW rating.
"I just got these on my Volvo S80 V8 AWD, says Brenadan D. "They have really impressed me. On the twisties, I was able to push them harder than I did – I haven't lost grip at all yet. Even sudden 90* turns don't understeer at all or lose grip. They're also MUCH quieter than my Federal RS-RR's on my other car. I am really impressed and want to get them again."
Again, a ringing review considering Federal 595 RS-RR's used to be thee budget grip and drift tire.
Relevant videos
Conclusion
It's pretty clear, if you're looking for a semi-slick UHP for drifting, track days, or replacements for your sticky OEM tires, if your tires come in KR20A sizes, you should definitely order a set (or two, or three.)