The good news is it appears interest for that particular search, KN car, is trending downwards.
Brand analyst Ashwinn Krishnaswamy, who goes by @Shwinnabego on Twitter, shared an interesting insight about KIA's new logo, on average Google is seeing over 30,000 searches a month for "KN Car."
the new kia logo is so unreadable that at least 30k people a month search for the "KN car" ever since its debut pic.twitter.com/jRj25JoAPp

— Ashwinn (@Shwinnabego) November 17, 2022
Back in January, 2021 KIA revamped its logo to signify a shift in its long-term strategy, the logo going from a traditional KIA surrounded by an oval to a new, more modern looking logo that goes sans oval.
But, as the new logo and search results show, from a distance, without a closer look at the space separating the capital I and A, it looks more like KN than KIA.
As further proof of people's search results, plug in just KN into Google Search and KN Car Brand tops the auto suggestions.
It's important to put these search results into context.
On average, just the word KIA gets over 1.83 million search results in a month so, in the grand scheme of total searches, 30,000 is a small percentage of confused people.
And, it's not like the new logo has blunted sales as of late as according to total car sales in the United States courtesy of Good Car Bad Car, KIA still ranks 5th in overall sales behind Hyundai, its sister company.
Sell-Side advisory analysts Kerrigan Advisors even rates both Hyundai and KIA as both improving in buyer demand so, even though there's a little bit of confusion about the logo, demand for affordable cars with lots of value is still high.
And, as mentioned, the search interest for KN car is, according to Google Trends, on a downward trend. I set the date timeline from when KIA changed its logo to as of this blog post.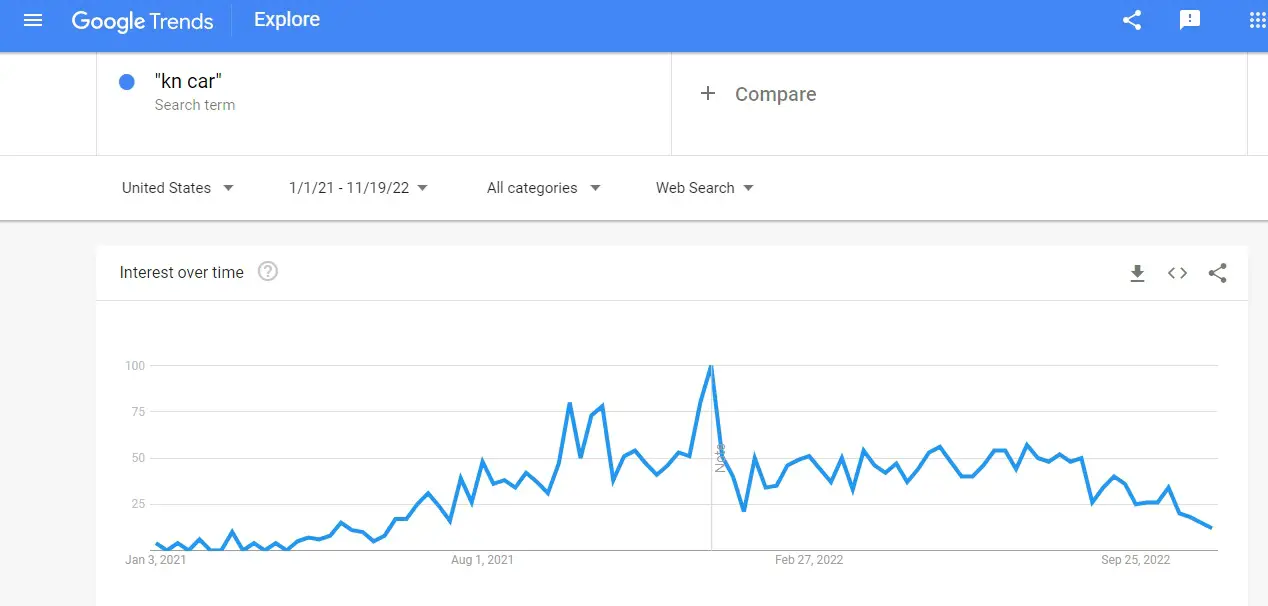 As you can see, so called confusion about "KN car" peaked in January of 2022 (which, at that time probably had more than 30,000 search times) and is, as mentioned, on a downward trend.
So, while yes, there is and continues to be a sizeable amount of confusion about KIA's new logo, enough to trigger a search query, it looks like people are getting the picture, slowing associating the KN as KIA.
Sooner or later people will see that weird K and backwards N as associated with KIA and search interest for KN car will be close to non-existent.
Of course, by then, KIA will have changed their logo again.
It's almost like KIA knew what they were doing or something.