"I really wish I pushed him harder & the car hit him and crushed his head. You d***b Chinese F***," Ashley Barkis replied in a DM
TikTok user Sam Anthabong, who goes by @Sam.AnthaBong, posted a multiple witness video compilation last week showing a woman, ID'd by TikTok users and the woman herself as Ashley Barkis, yelling racist remarks and assaulting an Asian man she accuses of hitting her car in the aforementioned multi-car wreck.
In an update video Anthabong posted that same day, she clarifies she was not involved in the accident and only posted the video at the behest of her friend, who got the video from the people actually involved.
I can't embed the actual video below because of its violent nature, but it's linked here and I'll post screenshots including descriptions below.
In the now viral video, we can see the aftermath of a multi-car collision in the Downtown Los Angeles area.
You can hear Barkis asking the man,
"Are you refusing? Are you refusing? Where is your insurance? You hit my car, I don't give a f*** about this b****"

"Do you have a driver's license?"

"Are you from America?"

"Do you even have papers?"

"Are you legal to be here?"

"Where is your driver's license, because I'm asking you, you hit my car."
The man shows Barkis his license which, at that point, Barkis begins to assault him, smacking the ID out of his hand, repeatedly hitting him with her fists, and pushing him towards traffic while he's reaching to pick up his ID.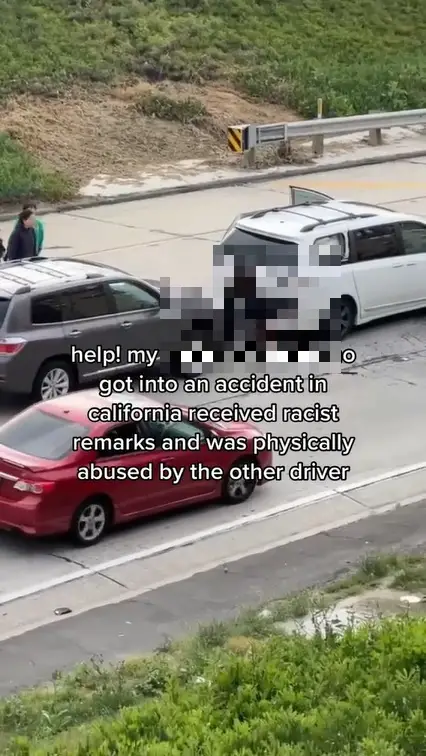 "Basically the people who are involved (in the video,) the Asians, they are interns working for a company," Anthabong said in her update video.
According to the interns as relayed to their boss and corroborated by dashcam footage that the boss claims to have filed, the woman seen saying the racist remarks and assaulting the man is supposedly, actually responsible for the accident in the first place.
"I think the woman that was raging in the video was actually the first car, Anthabong says. "I have dashcam footage where it shows she was swerving like crazy. And the people who were in the video who got assaulted, they are not even the car that hit her, they were the third car."
"The driver responsible for the accident was already driving recklessly, frequently cutting off multiple cars (Which was captured on the submitted dashcam footage,)" the interns boss says.
When she abruptly cut off another car and slammed on her brakes, it caused a chain reaction, resulting in three cars colliding. My friend's car was the third vehicle involved. Unlike the drivers of the second and fourth cars, who remained in their vehicles, my friend, and his passengers, had to exit their car as the airbags deployed.
The boss's statement says Barkis fled (hit and run?) instead of staying and waiting for responding Los Angeles police to arrive.
While the victims of Barkis's alleged collision and her racist remarks did go to the police, it appears LAPD are not taking the victims as seriously as they hoped they.
"Only the accident report has been filed thus far," the boss's statement reads.
"The officers didn't react very well, and they were kind of like laughing and not taking the situation seriously, "Anthabong says.
Here's Anthabong's update video.
Social media backlash, Barkis's outing as the woman in the video, and her half-hearted non-apology.
Shortly after Amanthong's video went viral, comments and DMs alleged that they know who this woman is (Ashley Barkis) pointing out her Instagram (@aaybee._) and personal Tiktok (@MiFly_AAYBEE)
Both accounts are now deleted.
Anthabong and others on TikTok provided screenshots of Barkis's DM's with other people showing Barkis defending her actions, replying that she assaulted the Asian man out of self-defense and that the video doesn't show the entire story.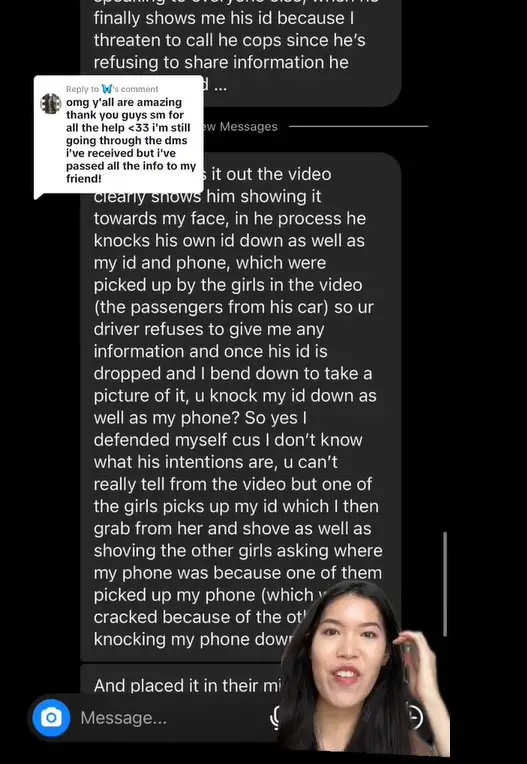 This particular DM from Instagram is particularly disturbing, which includes the quote from the beginning of this post.
"Honestly, f*** your (sic) and your Asian community, you guys are the pest of the earth and brought Corona Virus to America," Barkis allegedly responded to a DM.
Ironically, Barkis is half Filipino, which she reveals in her apology video.
Before deleting her Instagram, she supposedly posts an apology video to her stories, which is now only available as a copy in other people's TikTok reactions.
"I'd like to apologize to the family for any pain and grief that this encounter has brought," Barkis starts out.
"I would also like to apologize for any offense to the Asian community, as I am half Filipino and I definitely don't condone of any violence or racism against anyone in this world."
"If I could go back and do things differently, I would. I know I look extremely aggressive and agitated in the video that's been circling around. However, I can only take a step forward and show that's not my true character. The video doesn't show the entire story, there are certain things taken out which provide context."
"The video doesn't show my phone and ID in my right hand getting knocked out of my hand in the process of trying to exchange information. It was extremely difficult to take any reasonable pictures of that man's license as he wasn't necessarily holding it even reasonably still for me to take any pictures of it, and that's really all I wanted."
"I understand that a better choice of words instead of speaking out of frustration in an already stressful situation isn't the answer. There are so many other ways that I could've asked if he understood me or if there was something wrong with his license, or if simply waited for the police to get there."
"I hope you guys understand now that I am not at all racist, I'm just a human being who needs a little bit more practice, not feeling so offended and controlling…"
Followup and aftermath
Hopefully Anthabong provides further updates, which I'll update this post accordingly.
In the meantime, as per the boss's statement, it looks like the victims are attempting to file both accident and assault charges.
If you have any remarks, please leave them in the comments section below.