Goodyear Reliant tires look like a decent Walmart-exclusive at an attractive price
Updated Dec 11, 2021 to reflect newer reviews
Goodyear's got a new Walmart-exclusive tire on the market called the Goodyear Reliant, an affordable All-Season tire made for cars, crossovers, minivans and SUVs (pretty much everything except trucks.)
The Goodyear Reliant is a direct replacement for the Goodyear Viva 3.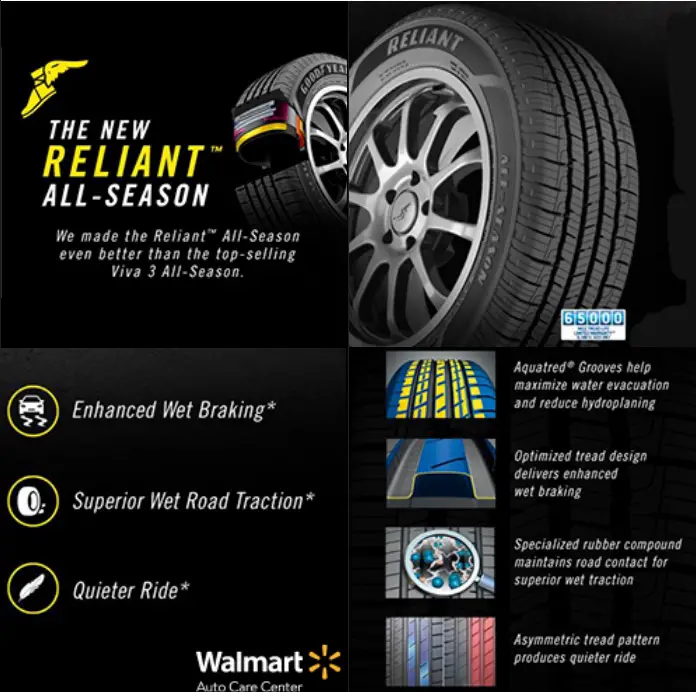 Currently, Goodyear Reliant tires are "Made in Mexico."
That's a non-starter if you plan to shop for 100 percent American made products.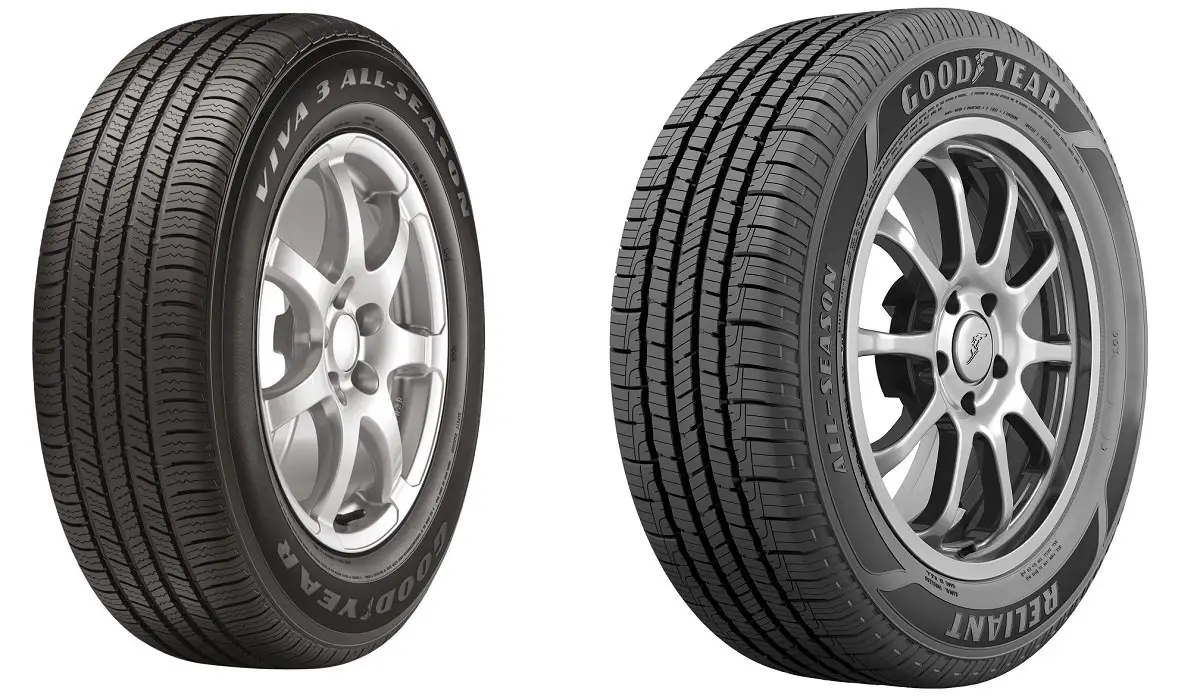 Goodyear knows they can't win over new and returning (former Viva 3 owners) shoppers on price alone. Goodyear has to deliver on performance at the expense of a slightly more expensive tire. The Reliant is just that.
Priced about 25% more than the same size Goodyear Viva 3 but a lot cheaper compared to their Goodyear Assurance (flagship all-season) and other premium offerings, the Reliant is engineered and marketed to be an affordable all-season that delivers above-average performance.
So, are Goodyear Reliant tires any good? Let's dive into that.
Features
The mark of a good all-season tire is one that delivers grip and traction in dry weather but can also handle rain. Goodyears says these new Goodyear Reliants delivers on both thanks to its "specialized rubber compound" and "Aquatred Grooves"
Here's the Goodyear Reliant description,
The Goodyear Reliant All-Season Tire offers an improved driving experience with enhanced wet grip and all-season confidence. Goodyear Reliant All-Season is designed to maintain road contact with a specialized rubber compound and Aquatred® grooves to maximize water evacuation. The optimized tread design and construction handles driving variabilities to deliver reliable tread life and a quiet ride.
Goodyear Reliants have a 65,000 mile Limited Treadwear Warranty, 5,000 more miles than the Viva 3 and just as many miles as their Assurance.
Additional specs include,
Treadwear rating: 600
Traction A
Temperature A
Speed Rating: H
Aquatred is a model and technology of Goodyear tires popularized in the 90s they discontinued in the early 2000s. Goodyear eventually incorporated Aquatred technology into the rest of its lineup so it's interesting to see them use a tried-and-true trademarked technology once again.
Be cautious about 5-star reviews, many purchasers received a discount.
The problem with Walmart-exclusive tires is Walmart.com is currently the only site with reviews. As of this writing, Goodyear Reliants have a suspiciously sizeable amount of 5-star ratings.
Reading through dozens of reviews, several mention "For full disclosure I was given the ability to buy these tires at a discount for my feedback." or "I received this product at a discounted price in exchange for my honest opinion" which is a huge red flag.
Seriously, ctrl+f "discount" filtering for 5-star reviews and the number of times the above sentence about discounts is mentioned, not re-worded differently, is disconcerting and highly suspect.
I later found out that Goodyear collaborated with a TheInsidersNet, a marketing firm that partners with enrolled testers who often benefit from free or heavily discounted products. Goodyear gave $150 discounts to prospective testers in exchange for reviews.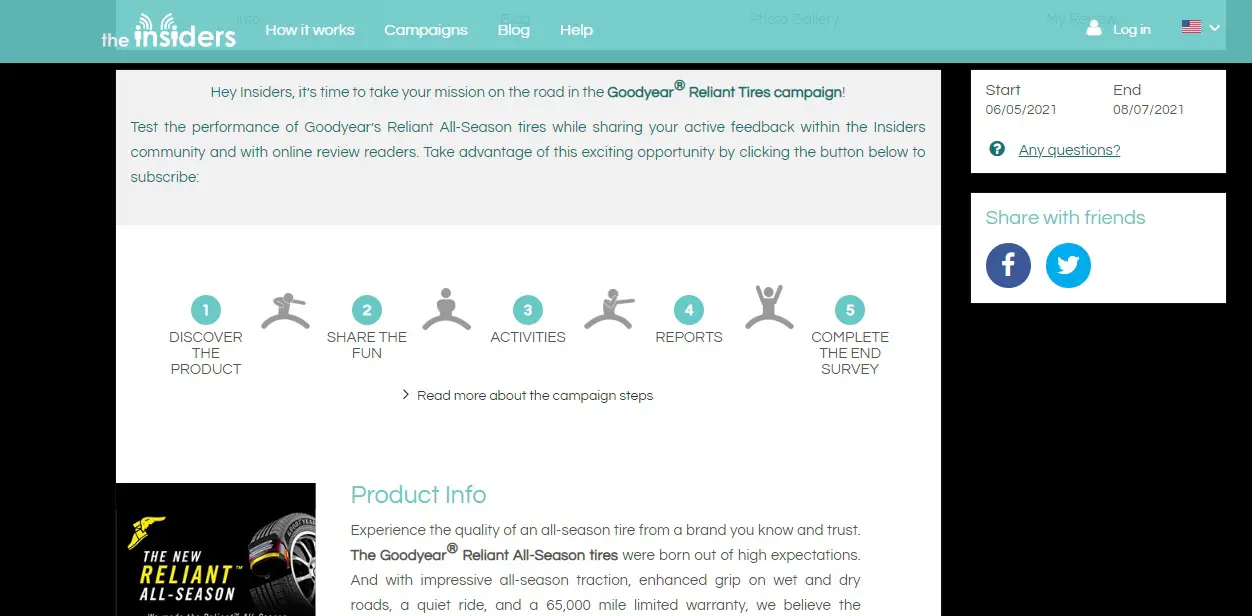 I'd take those particular 5-star reviews with a grain of salt and would recommend reading the 3 or 4-star reviews for a more unbiased take.
Reviews after August 31, 2021 (after the TheInsidersNet campaign) are probably safe.
Dry
Despite all the inflated reviews, they have some merit. Reviews praise Reliant All-Seasons for providing more than enough grip and traction on the straights and twisties when the weather's nice and dry.
Here are some notable quotes from a few reviews not mentioning a discount.
"The Reliants have very good grip and the vehicle feels more responsive at the steering wheel (formerly equipped with Bridgestone Ecopia) (July 7, 2021 review from Carlos)
"Traction has been amazing on my extremely steep driveway and I have not had any issues with braking or skidding." (August 2, 2021 from Stefyt)
Wet
Reviews show Goodyear Reliants offer a decent amount of grip, traction, and braking performance in wet and rainy conditions.
This is exactly where Goodyear's Aquatred technology comes into play as Reliant All-Seasons features thick grooves with an optimized pattern to evacuate water quickly to prevent hydroplaning.
Goodyear's "specialized rubber compound" also seems to deliver as much confidence-inspiring performance in wet conditions as it does in the dry.
A Honda Odyssey owner says,
"They have nice grip in the rain which we have been having a lot of." (July 11, 2021 review from Samuel)
In central Texas we have been getting a lot of rain and the tires performed wonderfully. The stopping distance was the same as in dry ground, and I could not feel any slippage from being on wet roads." (Aug 19,2021 review from Demeris)
"Just put 4 of these on a 2011 Sonata and can honestly say they are the best tires I have had on this car yet. Car is driven along the Oregon coast with a lot of rain, and they handle it excellent." (Nov 26,2021 review from John)
Snow
Goodyear Reliants just dropped Spring 2021, so most purchasers have not left reviews with their snow impressions.
Reviews remain optimistic that Reliants wet weather performance will carry into winter.
Off-road
Although Goodyear Reliants aren't designed for off-road driving, its thick grooves should offer decent grip on a light fire trail or off-the-beaten path to that picnic site.
You should definitely not take Goodyear Reliants on serious off-road trails if you don't want to get stuck.
Comfort
Reviews show Goodyear Reliant tires offer a comfortable and smooth ride.
There are, however, a lot of reviews that mention a hum or louder noise at highway speeds or that these Reliants are significantly louder than the tires they replaced.
This 2017 Lexus RX350 owner said,
Driving in the streets of Chicago, there are plenty of potholes and these tires drive over them comfortably. On the expressway, the tires are quiet, steady and comfortable as well. (June 25,2021 review)
A Mercedes E320 owner mentions,
"They (Reliants) are very quiet and smooth all season tires. I highly recommend them for a Mercedes smooth ride. They mounted with ease and balanced perfect." (July 22, 2021 review from Sayed)
The Odyssey owner with the wet weather comment above does mention,
I do notice a little more road noise (compared to my old Douglas tires.)
A 4-star review says,
I noticed a little hum when you're on the highway and that was the only reason I gave it 4 stars. (June 27, 2021)
These 1 and 2-star reviews are not happy with the noise.
"Extremely loud. Sounds like I'm getting ready for liftoff instead of just cruising down the road." (Nov 8, 2021 review from John)
"So noisy I have to turn my radio up to drown out the road noise. I thought they probably would get better with time. Wrong…" (Oct 12, 2021 review from Linwood)
"I am very unhappy with these tires. Why? They are very noisy. Woo Woo ….Woo woo they whine. I don't know how anybody could say these tires are quiet." (Sept 8, 2021 review from Jeffrey)
Should I buy Goodyear Reliant tires?
On paper, the Goodyear Reliant has all the right ingredients for a decent all-season: an optimized all-season-specific tread pattern, a good rubber compound, deep grooves for water, and an affordable price.
But let's face it, these Reliants, despite their improvements over the Viva 3, are still a cheap tire made on a budget, and that comes with compromises.
While Goodyear Reliants might grip good enough in all conditions, comprises might show themselves, as hinted at in the aforementioned reviews, with not confidence inspiring handling around corners ("thin" sidewalls, ) and road noise at levels deemed unacceptable depending on your noise tolerance.
As with a lot of tire shoppers looking for a deal, those who come across these Goodyear Reliants are willing to overlook possible added noise and sub-par handling at the limit if it means a significantly lower price.
For some, price is King.
All the reviews thus far, taken in its totality, hint that the Goodyear Reliant is a decent all-season that might come with compromises.
If you can spare an extra $100 on a set of tires, the quieter ride, better performance, and possibly longer tread life with a slightly more expensive premium tire might be worth it.
But, if you're on a budget and the set you have on is showing their wear bars, I have no reservations recommending these all-seasons. Anything new is better than near bald.
And even if you're not on a budget, don't drive much anyway, and are attracted by that low price, a good majority of you will be surprised at the overall value received at Reliant's price point.
Don't expect Continental ContiProContact or Pilot Sport Cup 2 levels of performance but, for day-to-day driving and that semi-annual trip to Yosemite, Goodyear Reliants should be, at best, good enough.
And don't say I didn't warn you about the noise and less than ideal cornering performance if those compromises start to rear their ugly heads driving out of the tire center.
Do you own Goodyear Reliants? Let me know your .02 in the comments below, good or bad.