The device claims to save you 30-35 percent on fuel costs, but here's why it's a scam and doesn't actually work.
Update: 8/24/2022 – I'm getting a lot of traffic to this blog post from people searching for "EcoVeco."
Just like the Ecobox fuel saver, EcoVeco is also a scam OBD 2 device. You can see on their website information (linked here) they popped up two months ago. What these scam companies do is buy a bunch of generic OBD2 dongles, come up with a name like EcoTune, OptiFuel, EcoMax. etc, make an e-commerce website, and then buy a bunch of advertising all over the internet to lure people in with insane promises like reducing fuel consumption by 55%. So yes, EcoVeco is a scam. They'll deliver you an OBD2 device that does absolutely nothing.
I clicked on a Youtube video the other day and the first ad I had to sit through was a video for the EcoBox Fuel Saver, an OBD2 device you plug into your car's OBD2 port that automatically calibrates your car's fuel consumption to use less fuel.
The Ecobox OBD2 fuel saver device is a scam, does not work the way it's advertised, is a complete waste of money, and should be avoided at all costs.
Here's why.
Fuel saver OBD2 devices are only programmed to display a flashy LED show.
These types of OBD2 fuel savers and this exact design (shape, color, and advertising) have been around for years and have all been debunked as nothing more than OBD2 dongles that play a specific sequence of LEDs.
Check out these two videos from EEV Blog and Big Clive,
Both videos first show how, when powered on by an external power supply and not an actual car, the OBD2 dongle plays a specific, yet convincing, LED light show meant to fool its user into thinking this device is actually "talking" and "tuning" your car's engine for better fuel efficiency.
As definitive proof, EEV Blog shows a blown up-close look at the actual chip, pointing out how it's not possible for the device to "talk back" to the car's engine via CAN BUS. Specific lines that are supposed to be connected to CAN BUS are not even connected (there's no soldering,) at all.
With no way to "talk" to your car's ECU and engine, there's literally no way for this device to "tune" your car for better fuel efficiency.
If that's not proof enough amateur DIY-er Valentina Sanders took apart a similar, if not the same OBD2 device, drew a detailed schematic of the supposed fuel saver, and concluded, corroborating what EEV Blog concluded himself that,
"This unit DOES NOT have any connection to OBD communication. Only what is connected is Power for this flasher to flash."
"This Plug & Drive OBD2 is just a very simple flasher for probably 50 bucks. For whatever you purchase this for but, it's a scam. It's a 100% scam because this device cannot listen, talk and of course, cannot reprogram."
There are legit OBD2 devices that re-flash your ECU for more power or better fuel consumption, but that type of programming is manufacturer and vehicle-specific that requires proprietary information and a first-hand knowledge of tuning cars for efficiency.
It's impossible for simple devices, like the EcoBox ECO OBD2 plug-and-drive tuning box, to tune every single vehicle make and model for fuel savings with a generic OBD2 device.
Are DiscountFuelReport.com or EcoBoxFuel.com even a legit sites?
Clicking on the Youtube ad I was forwarded to DiscountFuelReport.com advertising the EcoBox fuel Saver.
Two red flags pop up.
For one, the DiscountFuelReport.com domain name was literally created seven days ago. It's a fly-by-night type of site.
Next, their success story from "Paul, the cab driver" uses a photo owned by the Boston Globe (story linked here.) The actual cab driver's name is Celestin, and the story is about banks loans.
It's a similar story with EcoBoxFuel.com, this site was created in June 2021.
The real reason EcoBox Eco OBD2 fuel saver is being advertised to you.
The real reason you're seeing ads for fake fuel savers now, more than ever, is that gas prices are at record highs.
Whoever created the EcoBox Eco OBD2 fuel saver is trying to take advantage of this news, advertising a device that delivers 30% fuel savings (which is 15% more than the devices in the videos above.)
A not-so-known secret these fuel saver device makers don't want you to know is these OBD2 dongles are mass produced and available for wholesale from China, easily purchased on sites like AliExpress.com, Alibaba.com, or even Wish.com.
Don't believe me? Check out Wish.com's search results by clicking here.
And, here's a screenshot from AliBaba.com, they're buying them for as cheap as $2.38 and reselling them to you for so much more.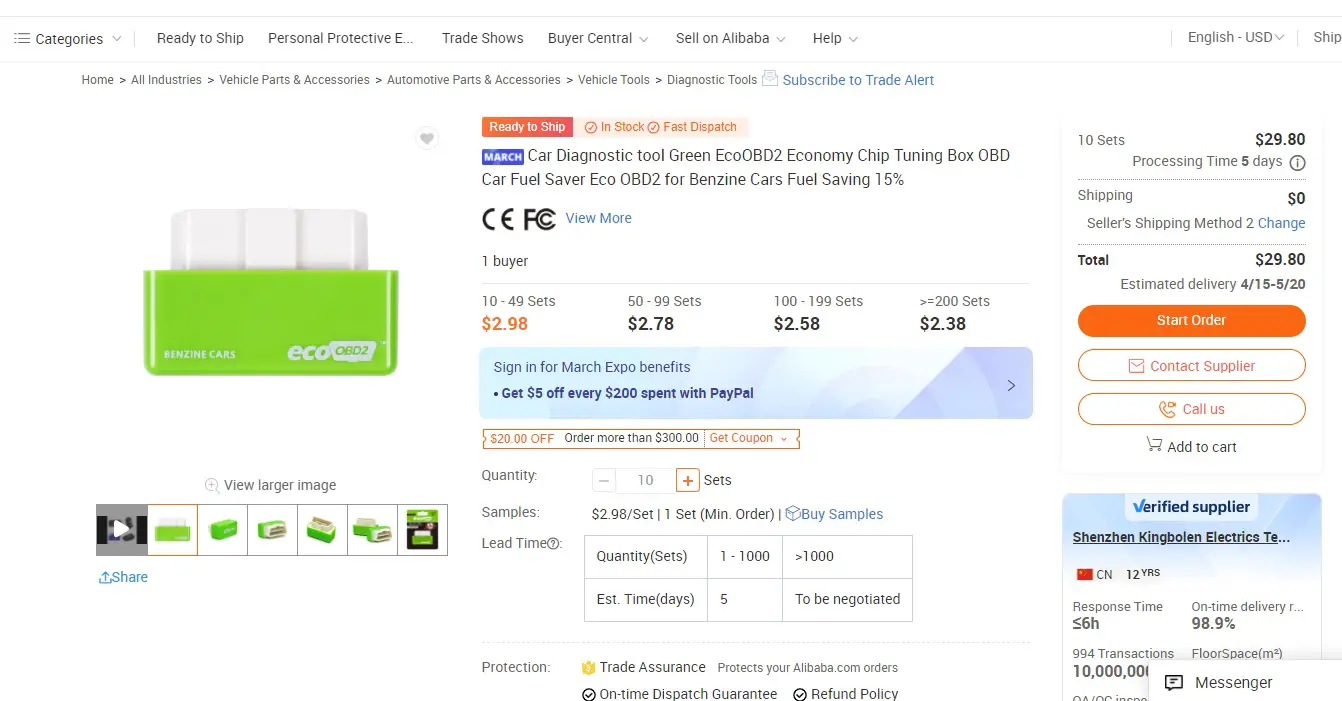 Simply put, do not buy the EcoBox Eco OBD2 fuel saver or any similar looking type of device.
These re-branded OBD2 Fuel Savers and their websites are created solely to rip off naïve internet window shoppers.
To conclude, this is what Pat Goss Master Automotive Technician for Motor Week since 1981 said on the matter of fuel saving devices with unbelievable promises.
"Over my many years doing the Motor Week TV show I have tested over 900 different fuel saving devices and not a single one of them worked."