Goodyear took its regular Assurance Fuel Max and optimized it for crossovers and SUVs.
website: www.goodyear.com
With gas prices reaching ever increasing highs, drivers are looking for new and innovative ways to make their cars as fuel efficient as possible.
One often overlooked area for potential fuel savings are tires. Goodyear was one of the first tire companies to come out with low-rolling resistance tire or a tire with a special tread compound that contributes to lower overall friction between road and tire.
Goodyear's Assurance Fuel Max, released in the mid-2000s, took the best characteristics from its already popular Assurance lineup and added their special Fuel-Saving Tread compound. Combined with its wet and dry tread zone and super long 65,000 mile warranty, it was a hit with consumers.
The Assurance Fuel Max was such a hit that in 2009, GM chose the Assurance Fuel Max as the official OEM tire for its revolutionary Chevrolet Volt, one of the first mass market Hybrid electric plug-in vehicles.
According to Motor Trend, Chevrolet says, "the Fuel Max helps contribute one mile to the Chevy Volt's 40-miles of electric-only range."
With the popularity of Crossovers and SUVs, Goodyear took its tried-and-true Assurance Fuel Max and re-engineered it for the demands of these larger and heavier vehicles, making the Goodyear Assurance CS Fuel Max.
CS Stands for Crossovers and SUVs.
Do these made for crossover and SUV fuel-saving tires actually save fuel?
Let's find out.
Key technologies
Goodyear's Fuel Saving Tread compound- Key to the CS Fuel Max's low rolling resistance is a special compound that, according to Goodyear, "uses a full silica compound for reduced intramolecular friction and high abrasion resistance. This reduces friction, makes tires 4% more fuel efficient, and contributes to 15% longer tread life." Goodyear claims this low rolling resistance helps save up to 2,600 miles worth of gas over the life of your tires, confirmed via independent testing.
Wet and dry traction- Dual aqua channels help propel water off treads and an outer dry zone enhances all-season handling and grip.
Center wet zone- provides traction in wet and light snow.
Stability- Reinforced construction for the rigorous demands of a variety of vehicle weights.
Grip- Engineered cavity shape is optimized to maintain an enhanced contact patch for a wide range of loads.
Optimized for SUVs and Crossovers- Here's a side-by-side of the tread patterns between a standard Assurance Fuel Max and an Assurance CS Fuel Max. The CS's tread pattern and overall construction is optimized for the unique duties of crossovers and SUVs.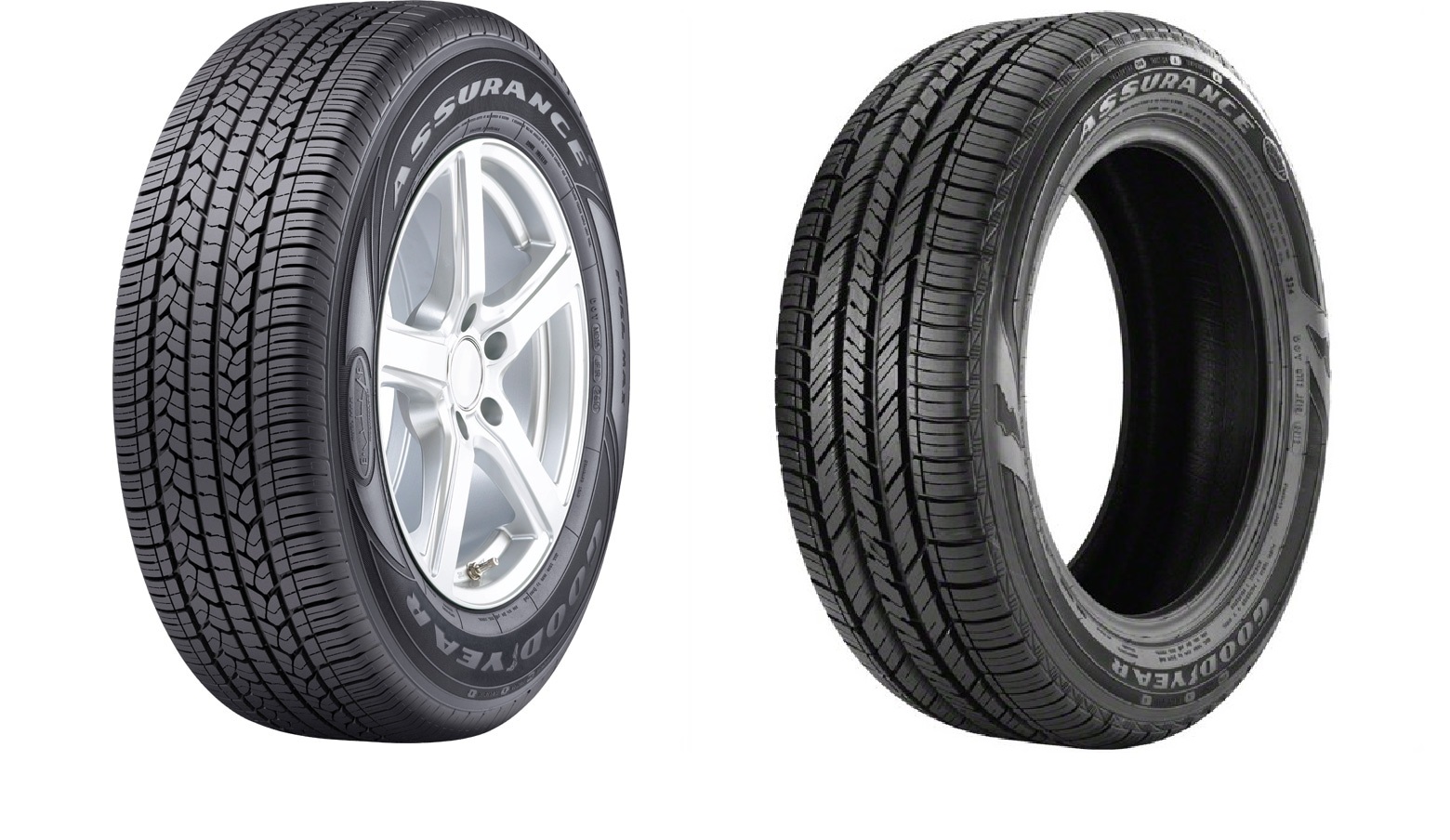 What do actual owners say about them?
One of the best, non-biased reviews of the Assurance CS Fuel Max come from TireRack.com purchasers. I encourage prospective shoppers to check out their reviews, linked here.
There are a handful of points brought up time and time again in reviews worth pointing out.
For one, Assurance CS Fuel Max seems to deliver on longevity, coming close to or near its 65,000 mile warranty. Afterall, what good is an eco-tire if it doesn't last long.
"These things eat up highway, city and undeveloped roads with ease, especially with a 4×4 system," says a 2005 Jeep Grand Cherokee owner with a reported 63,000 miles on these tires on his review on May 5 2018. "Most notably is the 63,000 miles I have put on them without a single defect showing…"
Although these Assurance CS Fuel Max tires last a long time, there are a handful of owners who notice increased road noise towards the end of their tire life.
"The last 10,000 miles the tires became a bit louder and the performance was down as the tread depth was down, "commented a 2010 Honda CR-V owner on Aug 21,2018.
"I think they are a very solid tire up to 40,000 miles or so then the tires become noisy and the performance drops which you would expect," says another 2010 Honda CR-V owner on June 24,2019.
And for actual fuel savings, there are several buyers who reported better MPG.
"I was pleasantly surprised of their performance. I have an average increase of city fuel mileage of 1 mpg and highway of 4 mpg," says a 2008 Jeep Grand Cherokee owner on January 21, 2011.
"First, I actually saw an increase of 1.2 MPG," reports a 1997 Ford F-150 2WD owner on August 5,2012.
"…the low rolling resistance of the Goodyear tires has increased my mpg by one mile per gallon," commented a 2017 Toyota Highlander AWD owner on March 7,2018
"I also noticed about 1 to 2 mpg's, commented a 2009 Nissan Frontier King Cab owner" on Oct 20 ,2014
Conclusion
So yes, if you drive a crossover or SUV, all evidence says switching to a low rolling resistance tire, like this Goodyear Assurance CS Fuel Max, may net you +1-3 MPG improvement with the largest gains seen on the highway.
Noteworthy, I did not come across reviews saying they lost MPG switching to Assurance CS Fuel Max's so, that's a good sign.
If you're looking to make your crossover or SUV as fuel efficient as possible and have a couple hundred saved up for a new set of tires, these Goodyear Assurance CS Fuel Max tires should be on your radar.