There are several good reasons to use a Lamborghini over a medical helicopter.
By now you've heard the amazing, Christmas-time story how the Italian Police (aka the Polizia di Stato) used their 2014 Lamborghini Huracan to transport two kidneys from Padua to a patient in Modena and Rome driving a total of 355 miles to complete the deliveries.
A comment I saw a lot of is, "Why didn't they just use a helicopter?" It's faster, any way.
While the Italian Police could have used a faster helicopter there are many good reasons to use a fast, Italian supercar instead.
First, the tale of the tape. Here's a map of the presumed routes they took, in blue is by car and the straight lines are what a rough flight path looks like.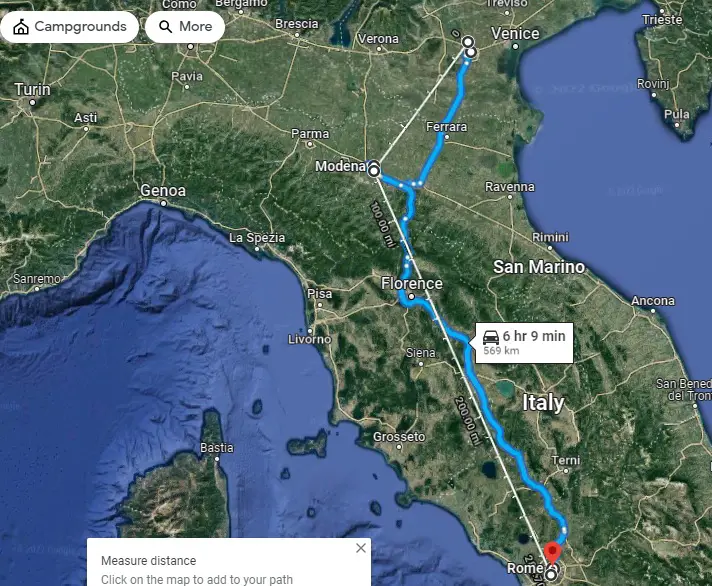 As the crow flies it's 270 miles so taking a helicopter would save 85 miles of travel.
Then, there's the vehicles, the Huracan has a top speed of 202 MPH, has a cruising speed of 145 MPH as reported in a previous organ delivery and, with a 20-gallon fuel tank and it's 15 MPG cut by 2/3rds at that aforementioned speed, probably has a range of between 120-150 at high-speed driving.
Embed from Getty Images
According to Emergency Live, one of the most popular medical transport helicopters is the AgustaWestland AW139 medium-lift twin-engine helicopter. With a 193 MPH top speed, a just as fast cruising speed, and over 770 miles of range, it's a no-brainer which one, the car or the chopper, is faster.
Embed from Getty Images
Just some rough maths and, if the Huracan can cruise at 145 MPH, adding in a mandatory fuel stop and assuming the roads are traffic free, it probably took the Italian police 3 hours for that two-stopper.
The AW139 cruising at 193 MPH would undoubtedly complete the first, 70 mile leg in 30 minutes and the other 200 mile leg in a little over an hour so, with two start-up sequences (each between 2-5 minutes,) the helicopter would take well under two hours.
So, why don't hospitals use the helicopter?
Well, according to one Redditor in the know, if medi-copters are already out flying about on another mission, these Lambos are the next best thing.
It's really as simple as the helicopters are already out doing something else.
If the choice is to wait for a helicopter, use a regular ambulance, which could take hours, or collaborate with the Italian police to use their special Huracans to get the organs in a fraction of the time as a regular ambulance, at that moment of decision the best choice is to ask the Italian police for help.
Afterall, outfitted with a special refrigeration unit specifically made to transport organs and designed for high-speed travel, that's what it's there for.
It's also a win-win for either party, the hospitals opt for the more fiscally responsible option as a supercar is a lot less expensive to maintain than a helicopter and the Italian police, upon successful completion, receive praise and adulation for their uncommon role as ambulance.
There are literally dozens of English news outlets with stories about the Italian police's good deed and probably 3x more in Italy.
So, 100 pecent, helicopters are faster and can get there a lot sooner than a Huracan but, when the choppers are all booked, the next best thing that's almost as fast as a chopper are these specially kitted Huracans.